SAFETY VALVES
Safety Valves
Leser Safety Valves
LESER safety valves are used by leading companies in industries such as chemical, petrochemical, industrial gases, oil and gas production, and machine building, as well as the food and pharmaceutical industry.
LESER offers spring-loaded and pilot-operated safety valves for all industrial applications according to PED and ASME VIII as well as application-based solutions for special requirements.
LESER Safety Relief Valves are available in various Specifications for Steam, Gas and Liquid Service, Flanged & Screwed Connections, Full Nozzle, Full Lift, Size : 10mm (inlet) to 200mm (inlet), Pressure Range : 0.1 bar to 400 bar. Also available in Complete Stainless Steel Material.
Product Types : Type 526 API Series, Type 441 Series, Type 459 Series, Type 237 Series for Steam, Gas & Liquid Services.
Click here for catalogue > Leser Safety Valves.pdf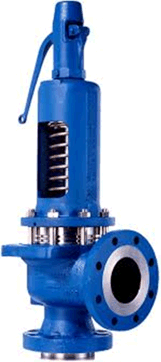 ---